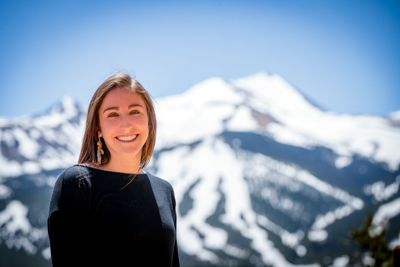 Contact Emily Directly
Cell: 970.361.4553
Office: 970.771.3959
Emily@yoursummitcountyhome.com
www.LiveaMountainLife.com
Emily's Story
Originally from Kansas City, I set off on my college journey to attend CSU and get a degree in marketing. Shortly after, I lived the city life in Denver and then moved to Breckenridge, Colorado in the Spring of 2017 to pursue my dream of living in the mountains. It is safe to say this is a dream come true. You can always find me walking my dog K.C., snowboarding, hiking, biking, watching Patrick Mahomes dominate the field for the Chiefs at Ollie's, or having a happy hour beer at RMU.
I began working for Cornerstone Real Estate in June 2019 as the Marketing Assistant. This allowed me to gain industry knowledge before jumpstarting my career into selling real estate. Todd and Barb Rankin created and continue to create a team and environment of motivated, smart, and enthusiastic people that make up the family of Cornerstone Real Estate Rocky Mountains.
Summit County is truly one of the most beautiful places on earth. I am lucky to call it my home and want to help others obtain that goal as well. Whether that be a vacation home, rental investment property, or your primary residence; I am here to help!
Here is what my clients have to say about working with me:
"Emily is such a gift during the craziness that is buying a house! Friendly, professional, always happy to answer questions, and has great knowledge about all the ins and outs of Summit County. Highly recommend working with her!"
- Naiomi and Thomas (October 2022)
"Cornerstone Real Estate is world class. We worked with Emily Lawless as we searched and found our home in Breckenridge. Emily was so helpful in every part of the process from going under contract, working with the seller's agent, and all the way to up until closing. We knew that we were in good hands and that brought us so much peace of mind. Emily is a consummate professional who is extremely focused on taking care of her clients. I would recommend her to anyone searching for a home in Summit County. Thank you so much Emily! You helped make our dreams come true."
- Patrick and Colleen (January 2023)
"Emily did a fantastic job making our first home buying process a easy breeze. She's very knowledgeable and realistic for someone who is trying to get a hang of things. I would highly recommend her to anyone!"
- Jessica and Brandon (July 2022)
"Emily was extremely knowledgeable and passionate! Buying a home here in Summit County can be exhausting on so many levels but with her persistence and drive to find us the right home, she helped my wife and I find our dream home. We cant thank her enough!"
- Clark and Genoa (July 2022)
"Emily did an amazing job in a number of areas. First, she listened to our needs for a new home and showed us just that, homes both within our budget and parameters. She was realistic about the market providing advice and experiences from what she was seeing in the market. Lastly, and because we were not from the area, she provided advice from a financing, and closing perspective that helped us wrap up the sale process quickly. There were a couple a times in the negotiation that we didn't agree with her advice. When we shared that with her, and gave her our thoughts, she listened, and I feel went back to the seller with our concerns as if they were her own. Very much appreciated and would recommend to anyone in the market within Summit County!"
- Jason Leffel (June 2022)
"Emily Lawless was awesome to work with and became a friend in the process of buying our place. She's professional, responsive, fun, knowledgeable, and loves dogs…so of course that makes her amazing! Highly recommend her and Cornerstone!!"
- Ginger and Mike (March 2022)
"Shout out to Emily Lawless and the entire Cornerstone crew. They made our home buying/selling so simple. Emily was a pleasure to work with. She explained everything to my husband and I and clearly walked us through the entire process. We are so happy with the work she has done for us."
- Samantha T. (July 2021)

"I would recommend Emily to anyone who is looking to buy or sell their home. She was very knowledgeable and professional throughout the whole process. She was available to answer my questions and made my husband and I feel comfortable throughout both the selling and buying process. Emily is an advocate for her clients and is willing to go the extra mile to get the job done."
-Meredith R. (February 2021)
"Emily did a wonderful job helping us sell our Frisco Condo. Her local knowledge was great and she was always very easy to get ahold of when we had questions. I would highly recommend her and the Cornerstone team."
- Tom and Wendy (February 2020)
Emily was so communicative and efficient for our first home buying experience. She was always available to answer our many questions, and helped us to negotiate a few important details which is really rare in our neighborhood! She also found this home for us before it even went on the market and is the whole reason we're able to make Breckenridge our home. The process moved quickly and smoothly, and I would highly recommend her to others!
- Molly and Jeff (December 2020)